Sue's News...


November 2015!

This year has truly flown! In addition to the Chicago area, I've played house concerts in Tulsa, OK and Dallas, TX, with my friend and 2014-touring buddy Jane Godfrey... and recently returned from a Folk Alliance Region Midwest (FARM) in Iowa City. SongSisters (Amy Dixon-Kolar, Patti Shaffner, and me) performed in Valparaiso IN, Rockford, IL, and at the Fox Valley Folk Festival in Geneva, IL this year... and will be part of Lilli Kuzma's "Holiday Hoot" show (WDCB) in December. In April, I hosted of a wonderful Monday night series at Uncommon Ground-Devon... read all about the amazing lineups here!
I've started work on a new album as well. So, lots going on! Please check my About page for a little blurbage and contact info. My Calendar is normally up-to-date, so please check out where I'll be next... perhaps it will be somewhere near you!
"Ya Just Never Know!" Tour, Sept. 2014
Sue and Jane tour out West!
Previously...

Singer/songwriter friend Jane Godfrey and I went on a lovely and amazing tour out West in Sept. 2014. With a mere click of your mouse, you can join us on our "Ya Just Never Know!" tour at this link: http://yajust.wordpress.com
________________________________

[Earlier news]

Summing up 2013: In addition to the Chicago area, I've played in Manitowoc, WI (April), and in June I went on an East-coast tour, performing with friends along the way: Charlie Mosbrook in the Cleveland area; a number of singer/songwriters in an established showcase in Frederick, MD; and with Jason & Ginger in Bloomington, IN. While I love performing in Chicago, there's nothing like the thrill of going on the road, performing at new venues, making new friends, etc. Very fun indeed!

Also in June, I performed (and curated an evening) in the Independent Chicago Songwriters Festival, held once again at the understatedly-named Jerry's Sandwiches in Wicker Park. Everyone rocked, and it was an honor being involved in this fest with so many talented musicians!

SongSisters -- Amy Dixon-Kolar, Patti Shaffner, and I -- had some really exciting shows thus far (with more on the way). In July we had Bruce Roper (Sons of the Never Wrong) record two of our shows live at Davenport's Piano Bar & Cabaret in front of very enthusiastic audiences, whose clapping and laughter are being memorialized on the CD we are making from these shows! After mixing and mastering back in Bruce's studios, artwork (by Mary Lewis), and manufacturing, we now have our first group CD, "SongSisters LIVE!" We released the CD in November at JustGoods (Rockford, IL) and Front Porch Music (Valparaiso, IN), and we're starting to get airplay (and live radio shows) as well. Link to song samples/our music store can be found on my Music page. You can learn more about SongSisters by clicking here.

I've also been playing some very lovely library shows. These are normally 1-hour shows with themes, but it can vary from place to place. Library shows are a wonderful way to see performers (and hear lecturers), often for free, at your local library... and while you're at it, you can check out the books! So... with more interesting shows coming up, and a new album in the works, I am very grateful for another lovely year.

12/20/12, the night before the world was rumored to be ending, yet again -- I hosted and mc'd a SuperStorm Sandy Benefit Concert at Uncommon Ground (Devon location) in Chicago. We raised over $1,000, all of which went to American Red Cross for Hurrican Sandy Relief Aid. SO many talented performers donated their time and shared their talents; the enthusiastic audience sang along, and all gave generously. I'll include some pictures here.

[earlier 2012]
Recently my song "Boys are So Sensitive" was selected as a "Top 5" winner in the Folk/Americana category of the 13th annual Great American Song Contest, so I get to display this cool banner: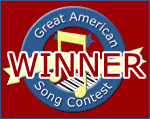 (click the pic to go to that page)
In addition, "Tracking System" -- which was a finalist in Big Top Chatauqua's "Celebration of the Song" songwriting competition in 2011 -- placed as a finalist in GASC's contest this year too:


Both songs are on my Thoughts at an Intersection album; you can hear samples (or buy!) at CDBaby, iTunes, Amazon, etc. -- my Music page has more info.

Other highlights: I'll just mention a few of my favorite shows so far this year:
* Opening for Michael Smith at Lake County Folk Club;
* Playing an "Omnichord Extravaganza" show with Heather Styka (the Omnichord is like an electric autoharp);
* Playing several shows with popular and talented violinist Jordi Kleiner;
* Playing several shows with SongSisters (me, Amy Dixon-Kolar, Patti Shaffner, and our recent Special Guest Claudia Anderson -- we add harmonies to each other's songs and cover songs as well);
* Playing a very special show, "Songs of Love and Longing," with Mark Dvorak and Donna Adler;
... and many more!

Lots of cool shows coming up, too. Even as I work on my new website design, my Calendar is always up-to-date... check it out!
SuperStorm Sandy Benefit, "Under the Boardwalk"!
photo by David Sameshima, 12/20/12
Sue @Uncommon Ground, 8/14/2011
photo by David Sameshima
Other news...

Videos: Just added a new

Video

page! Also, here are some other video links:

Damsel in Distress, complete with railroad tracks, villain, etc:

* Right here on my

Music

page (if problems viewing, see next link)

* YouTube:

http://www.youtube.com/watch?v=6QyUnTWg0p8

* Vimeo (for PCs that can view higher resolutions):

http://vimeo.com/1679123

Thoughts at an Intersection, title song of the new CD:

* Right here on my

Calendar

page

* YouTube:

http://www.youtube.com/watch?v=Bwa4Zb6SgWo

10/25/09 CD Release Show, w/"Bruce Springsteen"! (well,

kind

of...):

The video is pretty dark, it's manipulated somewhat but... still, you'll get an idea of the amazing fun of that evening, as I call out to "Springsteen," and he and I perform together!

* YouTube:

http://www.youtube.com/watch?v=e_10OwuBFs0

* Vimeo:

http://vimeo.com/14054449

Performances:

Please check my

Calendar

page for frequent updates. I love playing at new venues and joining other musicians in various showcases as well.

Facebook:

Now you can 'like' me on Facebook! Just click on the pic:
Podcasts:

* WNUR, The Folk Show w/Ron Lewis: Listen to our 6/21/09 interview at

http://www.wnur.org/folk/?p=428

- just scroll below the nice picture of me (by Terry MacNamara, w/Mary Lewis) and click the little triangle button to begin the podcast.

* Click the link to hear me discuss my songwriting process on Steve Meier's

Chicago Songwriter's Podcast

. You may also be interested to learn how different the process can be for different people (listen to the other episodes, too!). We each play several songs as well as discuss what works for us, our influences, etc. Also, I've put

links

to many of the people I mention in the podcast...